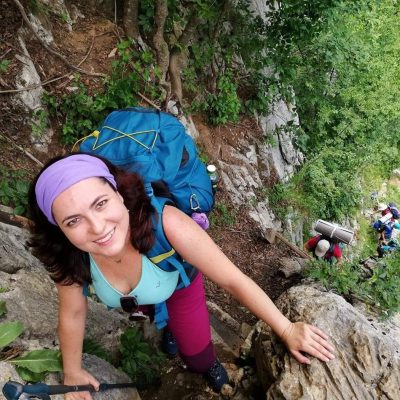 Gabriela – Tour Guide
Gabriela is a National and Mountain accredited Guide and you will meet her in our ecotouristic tours.
Besides traveling, Gabriela is passionate about life and nature, medicinal herbs, aromatherapy, dancing and foreign languages. She is a native Romanian speaker and fluent in English, German and Spanish.
She obtained a PhD in Biochemistry and Immunology in Germany and after she came back to Romania, she fell in love with the Free Worlding project. That was the moment when she decided to bring her enthusiasm into the project and be part of the team.
Gabriela is always ready to show the authentic places of traditional Romania to everyone willing to experience another kind of tourism. She will surely delight you with her exuberant smile, energy and young spirit.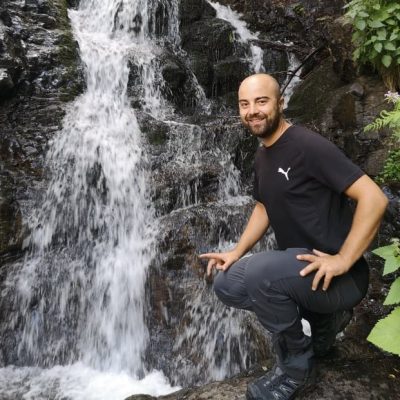 Gabriel – Tour Guide
Gabriel is a National and Mountain Guide on our adventure tours. After two months of continuous participation in our kayak tours in the wildness as a simple tourist, Gabriel decided to join our team and be part of the project.
Gabriel is adored by the children and teenagers who come with their parents on the project tours. He loves to spend time with them and to initiate them in handling the paddel or in discovering the narrow mountains trails.
He is passionate about hiking and canyoning, and when he is not joining the tourists coming to discover the Romanian wonders, you can find him traveling in exotic countries like Morocco and Jordan, looking for new challenges.
In addition to this, Gabriel is working as a sound engineer at one of the biggest televisions in Romania.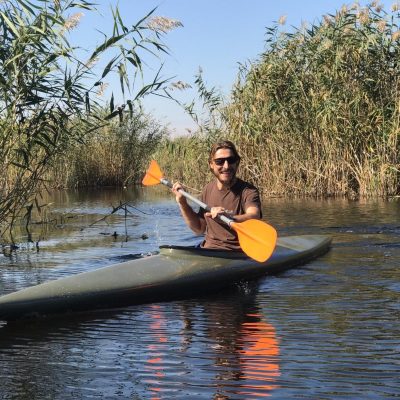 Liviu – Tour Guide
Liviu is an accredited alpinist and he is always looking for adrenaline, wild places or steep rocks to descend into the rappel.
He discovered his passion for water and kayaks from the moment he found an abandoned kayak somewhere into the reef of the Arges river. He did a full reconstruction of the kayak all by himself, and now he is very proud of it.
His very first meet with the Free Worlding Project was as a tourist on one of our kayak tours, and since then he developed himself very quickly as a guide on our adventure tours. He is trained to join tourists on most extreme adventures.
Liviu is the one who also deals with the training of our other guides for a better understanding of the secrets of alpinism.
Andrei – Tour Guide
Andrei is our National and Mountain Guide, always in love with everything what mountains have to offer, no matter the season.
He is permanently interested to conquer the highest peaks in the world. For the moment he is preparing his luggage to climb on the Elbrus, the highest mountain peak in Europe.
When he is not outside into the nature, Andrei is training his physical condition by practicing kick-boxing.
His great desire to be part of our team pushed him to offer great creativity and enthusiasm in organising the coolest mountain tours.
Andrei is also involved in different social projects and a part of his energy is directed to the actions of the Free Worlding Association that meet the proper needs of the disadvantaged people.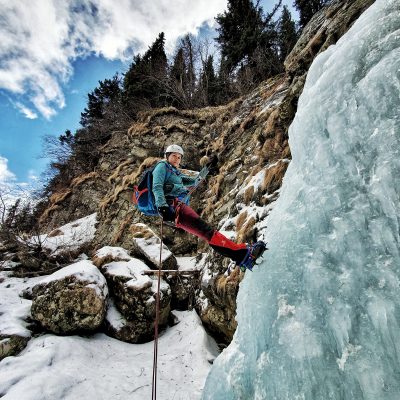 Alexandra – Tour Guide
Alexandra is a very dynamic, pleasant and understanding person with whom you will feel safe on any mountain route. She fell in love with the mountain 10 years ago, but she feels like yesterday she put her foot on the mountain trails for the first time. She believes that the mountain demands nothing but respect and it offers you many things in return. Therefore, a helping hand on the mountain can bring you a lifetime friendship.
Alexandra always says that the mountain connects people and that this is the main reason why we, the Free Worlding guides, were brought together. Because we all have at least one story on the mountain. She climbed to the highest peaks in Romania, but not the obsession of conquering them was the real purpose, but the desire to discover magical places that effectively take your breath away. Alexandra is open to share interesting information with the tourists, so that in the end of every adventure, everyone could go back home with a full baggage of knowledge and a multitude of beautiful memories.
You will meet Alexandra and her exuberant euphoria on the mountain tours of our project … and not only.
Florin – Tour Guide
Being in love with the Romanian wildness, Florin built up Free Worlding Project 4 years ago. Starting from a big desire to discover unknown places, Florin developed the project with perseverence and ambition.
He is passionate about kayaks, so if you are ready to explore the Romanian rivers, lakes or even the unique Danube Delta, Florin will guide you through their wildest and hidden places. When he is not on the water, you will find Florin in the most exotic destinations, guiding tourists worldwide.
His university and post-graduate studies in the field of tourism were the starting point for obtaining further qualifications, including the Tourism Manager and the National and Mountain Guide certificates.
He is fascinated about photography, a hobby he is practicing whenever he has the opportunity out in the nature.
Continuously receptive and careful to the tourists' needs, Florin is always prepared to come up with the most professional solutions.
By choosing his tours, you will have the opportunity to be guided by the person for whom travel has become a lifestyle.