Tour Overview
1 Day in Varghis Gorges
* Our tour starts at 07:00 a.m. when we will pick you up from the hotel. We are waiting for a 4-hour drive to one of the wildest gorges sectors in Romania. As we hurry to get on the way to start the trekking tour, we've prepared a little snack that you can serve in the 15-minute break that we'll take half way.

* The Varghis Gorges provide shelter to more than 120 large and small caves, as well as to one of the largest bat colonies in Eastern Carpathians; thus, the area is not only a tourist attraction, but also a good place for those interested in these strange creatures. The caves shelter 17 of the over 30 species of bats living in Romania. With their legs hanging from the ceiling and their wings wrapped around themselves, the bats have fired and continue to fire people's imagination, as they associate bats with wicked spirits and all sorts of superstitions. Not everyone believes that bats are ugly, scary or repulsive. For example, according to the members of the Association for the Protection of Bats in Romania, these creatures are interesting and pretty, in fact one could get to grow fond of them, if one is curious enough to know them better. Bats are generally insectivores and they devour impressive quantities of mosquitoes. Though seeing, they use echolocation to locate, namely they detect their prey or obstacles based on ultrasounds and they can identify obstacles thinner than hair. Bats are protected by the law, nevertheless the number of these flying mammals is declining throughout the entire Europe. Other tourist attractions situated in the Varghis Gorges that are worth seeing are the Large Cave in Meresti, the Horse Cave and the Tartars Cave, which has allegedly sheltered the locals against the Tartars' invasion. The nature reserve also hosts a dendrological park, as well as a lesser-known narcissus glade. Tourists have the opportunity to see other flowers protected by the law, such as the yellow peonies

* During our trip we will visit the two largest caves in the reservation area

* Halfway down the road we stop in a spot where we serve picnic on the green grass

* The return is on another gorges route, more precisely above them. You will have the chance to see an impressive panorama over the whole gorges chain. The descent is on a slightly abrupt road that runs through a dense forest. * Before leaving for Bucharest we quickly serve a second picnic to get some energy. Between 22: 00-23: 00 we reach Bucharest where you will be transferred to your hotel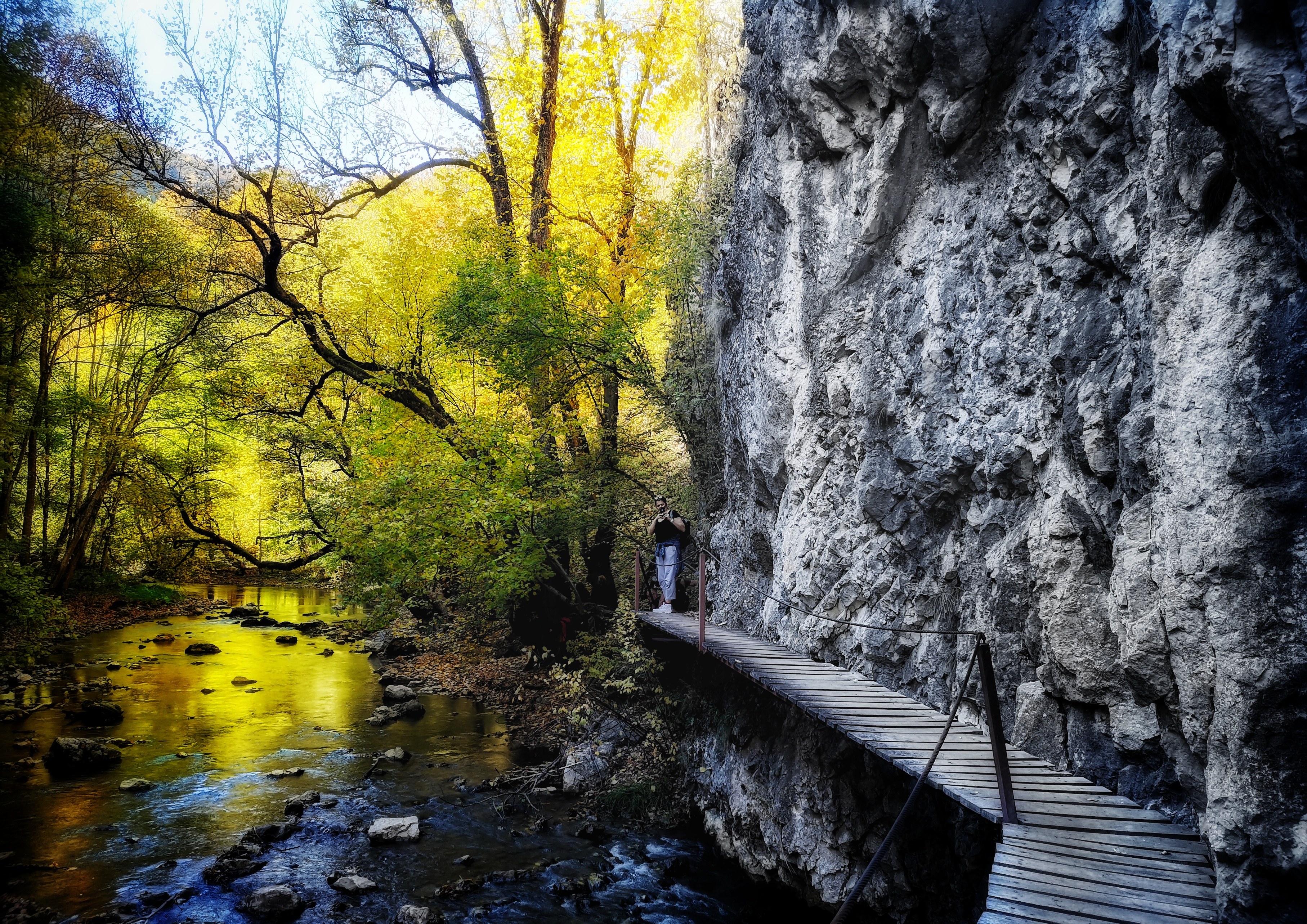 The numbers of the day:
Route length: approx. 10 km
Duration: 5-6 hours
Difficulty: 2 out of 5 (2/5)
For this 1-day adventure you need:
Clothes and shoes suitable for trekking (boots)
1 fleece adapted to the temperatures of that moment
What is included in the price:
2 professional tour guides, and support staff for the activities
English speaking guide for the entire period
Transfer from and to the hotel
Driver
Entrance fees in the Varghis Gorges
2 snacks – picnics in nature (lunch and dinner)
Water supply
1-day tour backpack
Trekking sticks
Fresh fruits and sweets
Raincoat
Transport with our minivan for the entire duration of the adventure – fuel and parking fees included
What is not included in the price:
Alcoholic and non-alcoholic beverages
Other personal spending
IMPORTANT NOTE:
We can organize this tour all year long.
The tour can be customized depending on the number of days you have available.